Astronomical! ESO Supernova inspires us to value and understand our universe
A Supernova is the bright glow of a star when its mass is transferred to another star and the original star explodes. During this process, its brightness increases by a million-fold for a short period, when it shines as brightly as a whole galaxy.
GEZE automatic doors in the ESO Supernova Planetarium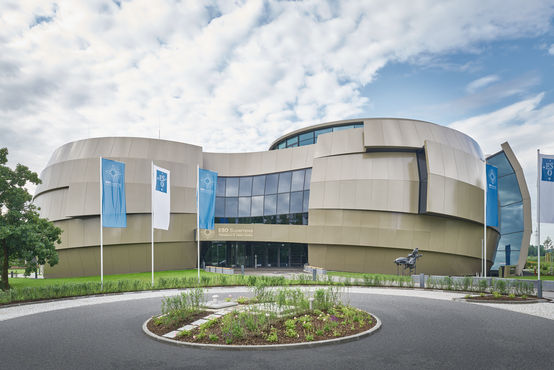 GEZE automatic door in the ESO Supernova Planetarium. Photo: Robert Sprang for GEZE GmbH © Robert Sprang / GEZE GmbH
The phenomenon gave its name to ESO Supernova Planetarium & Visitor Centre in Garching. It is now open to visitors – but cutting-edge astronomy research is not the only thing going on here. Using state-of-the-art interactive display technology, the 'binary star' gives visitors of all ages unique experiences 'in the universe' which they can experience with all of their senses. GEZE is proud to contribute to the brilliance of the ESO Supernova with sophisticated automatic door technology.
Welcoming atmosphere
At the main entrance, the fully automatic revolving door with an TSA 325 NT range drive system,allows visitors to come and go both comfortably and safely. With generous passage widths that are transparent on all sides, the designer door emphasises the open atmosphere in the foyer. Discreet and elegant, it nevertheless has more to it than first meets the eye: the delicate-looking revolving doors can make things difficult for unauthorised visitors. It offers enhanced protection against burglary with additional, invisible locking components.
Peak visitor numbers: accessible to everyone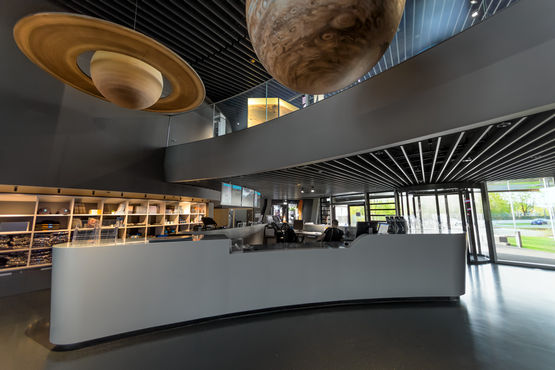 As a multifunctional solution, the double-leaf swing door with a TSA 160 series drive guarantees access for all to the foyer. Photo: ESO © Robert Sprang / GEZE GmbH
Automatic door solutions from GEZE ensure that the ESO Supernova is able to handle the throng of visitors at all times. If a large group of visitors can be seen from the forecourt, the adjacent automatic façade door can be kept open for longer. As a multifunctional solution, the double-leaf revolving door with a TSA 160 series drive guarantees access for all to the foyer, and acts as an emergency exit. Additional GEZE solutions have been created for doors and windows throughout the whole building, for the comfort and safety of visitors and staff.
GEZE's contribution to a look up at the stars
Buildings expertise:
Tailored solutions in collaboration with all the parties involved in construction for optimal operating processes and safety: from comfortable handling of visitors flows, to emergency exit protection and burglar resistance.
In the façade:
Fully automatic designer revolving door with certified ease of access, increased burglar resistance with invisible components, automated night-time closer with automatic rod locking system
Automatic double-leaf swing door: accessible emergency exit