Press kit FeuerTrutz 2019
At FeuerTrutz in Nuremberg from 20 to 21 February 2019, we will be presenting systems and solutions to support customers and partners in the field of fire protection in building planning at booth 404 in hall 10. Our path is Connecting expertise - building solutions. Press releases on our trade fair highlights are available to you.
Building automation
GEZE Cockpit building automation system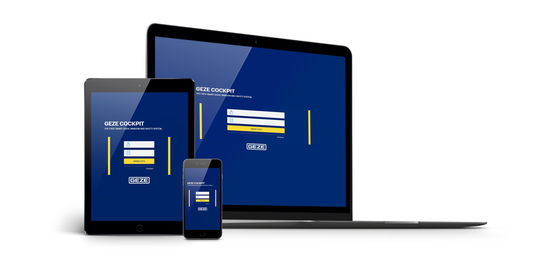 Buildings become more liveable – safer, more efficient and more comfortable – when products from different subsections of the building communicate with each other. GEZE Cockpit, the first door, window and safety technology system, successfully achieves this. GEZE demonstrates how automated products can be networked and centrally operated and monitored. The building automation system can work independently, or be integrated into a building management system.
Networked and smart doors and windows
The interdisciplinary networking of door and window technology with smart software and open interfaces provides completely new options for planners and operators in terms of building automation. The BACnet communication standard enables the full intelligence of GEZE products (i.e. all available control options and status information) to be integrated into the building automation system using GEZE Cockpit. The truly 'intelligent' operation of doors and windows is possible because the system allows data from other devices and subsystems to be used. Doors and windows can therefore be controlled and monitored with the highest degree of precision.
seasonal setting of the opening width of an automatic sliding door
opening and closing of a window according to the external temperature, in coordination with weather stations and heating systems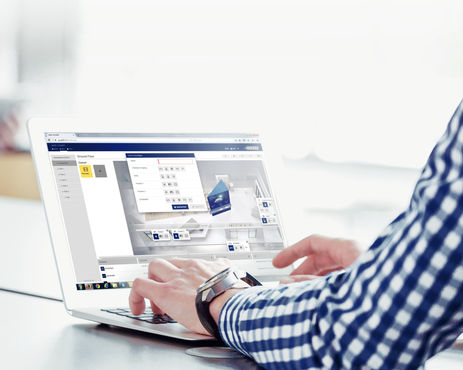 © iStock
Scenarios – the right reaction, automatically
Individual scenarios can be saved in GEZE Cockpit, so that doors and windows are opened and closed or doors locked automatically. This is triggered either by time or by a specific event.
door monitoring and control, operating mode changes
for targeted escape route release
intelligent smoke and heat extraction
This also means that time-consuming inspections are no longer necessary, since the status of each connected element is reported. Malfunctioning doors, alarm and error messages can be easily identified and countermeasures implemented immediately.
Always a great atmosphere
Ventilation scenarios ensure an optimal indoor climate through the interplay of subsections. Integrated in GEZE Cockpit, the façade technology responds to changing climatic conditions.
windows close according to the exterior temperature, rain/wind
windows open according to the ambient temperature and air quality in the room
energy-efficient night-time back cooling, e.g. in office blocks
The optimal GEZE Cockpit in any building
The system can be adapted to individual requirements – whether installed in airports, clinics, exhibition halls, office blocks or shopping centres. Because there's not just one GEZE Cockpit, we get involved in networking projects at the earliest opportunity and remain involved for longer. This ensures that all our customers' and partners' needs and the building requirements are met, and no questions are left unanswered, creating comprehensive and efficient solutions with the greatest added value. To achieve this, we connect all building development personnel in an efficient network and provide inspirational impulses – all in keeping with our slogan, 'Connecting expertise – building solutions'.
Support in all project stages
planning/project planning and management
configuration and commissioning
operator training
maintenance and support
Coordinated service packages
GEZE Cockpit features three different applications, depending on the situation and to cover a wide variety of building requirements: GEZE Cockpit BASIC, GEZE Cockpit VISU, GEZE Cockpit VISU+. Whichever software configuration is implemented, the comprehensive service package and the expertise of our networking specialists are always included.
Door technology
Enhancing hold-open systems – Convenient wireless operation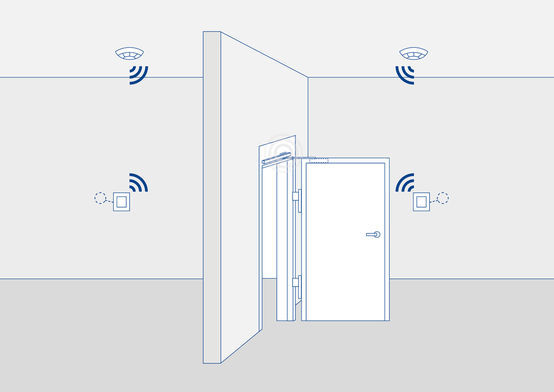 A hold-open system ensures fire protection doors are fully accessible. With the new FA GC 170 wireless extension for hold-open systems, GEZE demonstrates how achieved hold-open system can be expanded without additional cable connections. The system has already received two awards, and is in use in a listed building.
The unique extension solution makes GEZE hold-open systems even safer, more comfortable and more discreet. We understand how important visual criteria and easy installation are in addition to functionality, because we are in constant dialogue with our customers and partners to meet requirements in our inspiring product solutions. GEZE's wireless hold-open systems support the appearance of a room, thanks to their virtually invisible installation.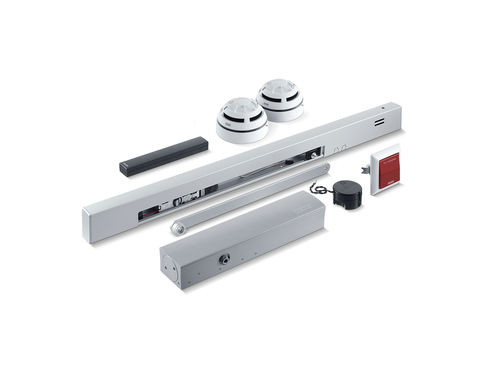 Radio expansion components
Extra cables are a thing of the past
The new GEZE FA GC 170 wireless extension replaces cable connections with wireless solutions. The system has the great advantage of not needing any additional cables.
The wireless extension components are easily connected to existing systems via a wireless module. FA GC 170 is therefore also a retro-fit solution that enables ceiling-mounted smoke detectors and manual trigger switches on GEZE hold-open systems to be connected wirelessly to the wireless module on the lintel-mounted detector.
No structural changes necessary
Construction work such as the knocking-through of walls and ceilings is not necessary. That facilitates planning.
The installation of the wireless extension is the ideal solution
in listed buildings
if structural changes are not desired, or are not at all viable
We offer a unique solution for hold-open systems with wireless components with
a general construction technique permit
That means
avoiding non-approved object-specific enhancement solutions
no expensive and time-consuming approval processes
Fast and simple connection – low maintenance
All components of the wireless extension are connected via a DIP switch. The wireless module at the heart of the wireless system enables wireless communication between the virtually invisible lintel-mounted smoke detector and various wireless devices (e.g. the wireless ceiling-mounted smoke detector or the wireless ceiling-mounted thermal detector and wireless module to the manual trigger switch).
More benfits
flexible system design: connect up to six wireless devices
can be fitted to ceilings with special structural features
optimised for all GEZE hold-open systems
tested in accordance with the European DIN EN 5425 standard for fire alarm systems
5-year battery life and low maintenance
Excellent: With the German Design Award 2019 in the category "Building & Elements" and the ICONIC AWARDS: Innovative Architecture 2018 in the category "Product".
Successful in use in historical buildings
We have written a property report on how the GEZE fire protection solution with wireless hold-open systems makes the listed building of the Dortmund trade association more livable for employees and visitors and what advantages the operators benefit from.
A clean thing: in a historic building GEZE locking systems "by radio" extended
Building in the historical stock? And then have to provide for the laying of the cables for the fire protection solution? This is easier and was successful during the conversion and modernisation of the listed headquarters of the Association of the Metal Industry in Dortmund: with our unique and award-winning radio extension FA GC 170 for hold-open systems.
Go to the reference
Smoke switch control unit with telescope function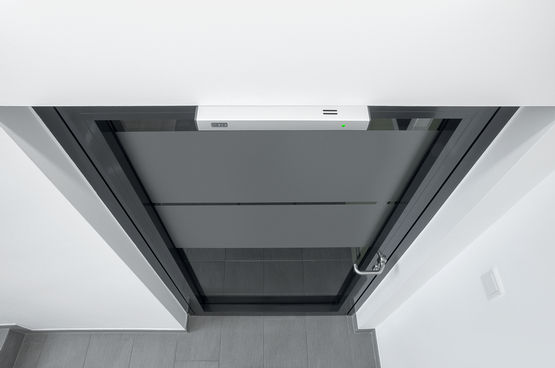 © GEZE GmbH
Smoke switch control units in hold-open systems must always function flawlessly, so that doors close reliably in the event of fire. With the new RSZ 7 intelligent smoke switch control unit with telescope function, GEZE demonstrates that this is possible, even if the structural conditions of the lintel are unfavourable.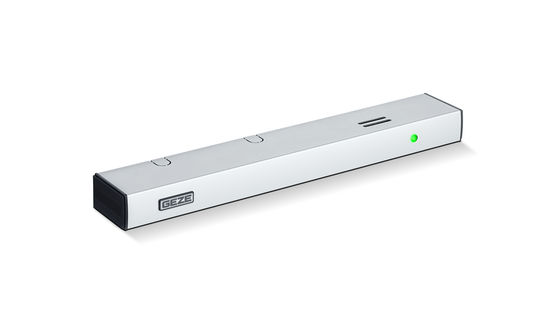 RSZ 7 smoke switch control unit © GEZE GmbH
The solution for 'space problems'
The new flexible solution is ideal for lintels with too little room above the smoke chamber for the unobstructed supply of air or smoke. The smoke detector is telescopically extendible and retractable, and can bridge overhangs of 30 millimetres.
With the new RSZ7 smoke switch control unit, the
specified minimum distance between the smoke switch control unit and the lintel is always guaranteed
smoke is always accurately detected
Easy connection
The smoke switch control unit is connected to the 230 V power grid by means of an integrated power supply.
24 V supply voltage to the connected GEZE hold-open device (hold-open magnet on the wall and magnetic counter plate)
installation above the active leaf on the vertical wall for early detection of fire and smoke
Reliable safety – long life span
In the event of an alarm, the voltage supply to the hold-open devices is interrupted and the doors close immediately. Connection of two additional ceiling-mounted detectors – also cable-free – via the new wireless extension FA GC 170 is possible depending on requirements.
The integrated smoke switch of the RSZ 7 has a function for the automatic adaptation of the alarm threshold
compensation of contamination in the smoke chamber
reliable security and increased life span
Quiet, powerful and barrier-free in any environment: the new door closer TS 5000 SoftClose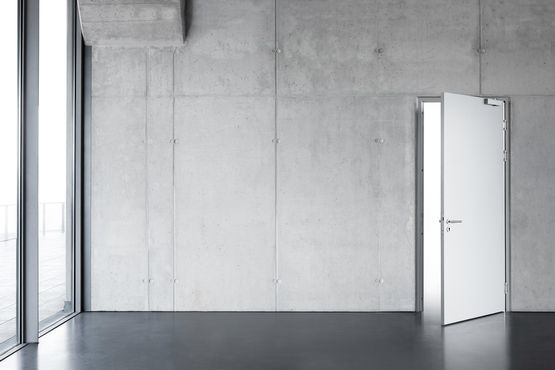 © Getty Images / iStockphoto
People who live near doors with door closers – on the ground floor, for instance – are glad that they do not have to hear constant slamming. The GEZE TS 5000 SoftClose is an overhead door closer which combines silence with preventive fire protection. It has already received a prestigious award.
Door closers without closing noise
The 'strength' of the TS 5000 SoftClose is its individually adjustable closing speed before the door reaches the closing position, combined with the strong closing force of the TS 5000. This results in the reliable, safe and quiet closure of automatically closing doors, even in unfavourable conditions. For example, in mostly narrow interlocking door systems in subterranean garages, stairwells or exterior doors, where the wind has an adverse effect on closing doors.
No door slamming anymore
Door slamming is prevented by damping the door shortly before the closing position
Optimised closing: doors are pulled securely into the lock with uniform force
adjustment of the latching action or braking of the door leaf to the last opening degree
Flexible for individual requirements
The focus of our work is on what our customers and partners need. That is why we always discuss future challenges or proposed projects with them. Our development potential makes us flexible, which enables us to quickly meet customer requirements with solutions such as the TS 5000 SoftClose.
Added value for users, operators and planners
We are involved in projects from the brainstorming stage, and combine the industrial and technical expertise of all parties involved to create the most beneficial door solutions. We thus support the use of the TS 5000 SoftClose in buildings such as clinics, hotels or apartment blocks, where its superior properties are especially important. We want buildings to be more liveable, flexibly designed and efficiently operated.
Other advantages at a glance
accessible in accordance with DIN 18040, for leaf widths up to 1,100 mm
can easily be exchanged with all versions from the TS 5000 series
range of applications identical to that of TS 5000 door closers
suitable for single and double-leaf doors and different system variants (e.g. with electric hold-open device or integrated smoke switch)
individually adjustable closing speed in the door opening angle range between 15° and 180°

© Rat für Formgebung
Award for high quality
The TS 5000 SoftClose door closer was declared the winner in the 'Building fixtures' category at the ICONIC Awards 2019: Innovative Interior – the highest award in the Building Equipment category. It impressed the judges with its excellent practical values, functionality, serviceability and degree of innovation.
Safety for fire protection doors
The FT300 electric strike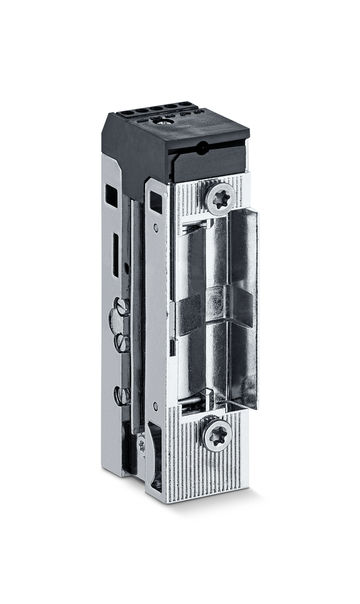 The FT300 electric strike
Electric strikes are vital aids for automatic swing doors which experience a high level of use. They come into their own when routes to the door are lengthy and visitors are able to access a building without waiting for a long time.
Special electric strikes are needed on emergency exits that double up as fire protection doors. The new FT300 electric strike is approved for use on fire protection doors under DIN EN 14846:2008 and therefore optimally suited for this purpose.
Increased burglar-resistance
The FT300 offers increased safety: It opens doors even with a preload of up to 500 N, with a full latch engagement. The deep latch engagement of nine millimetres keeps doors closed safely. Increased burglar-resistance is achieved thanks to a maximum holding force of 10,000 N against tampering. That is why this electric strike can also be used as a safety electric strike for burglar protection on doors.
Simple installation thanks to new connection technology
Universal installation due to adjustable terminal plate
Fits in all conventional strike plates, and can also be easily adjusted there.
Standard equipment with protection diode
Suitable for single and double leaf solid leaf doors
Smoke and heat ventilation (RWA)
The compact MBZ 300 N8 SHEV control panel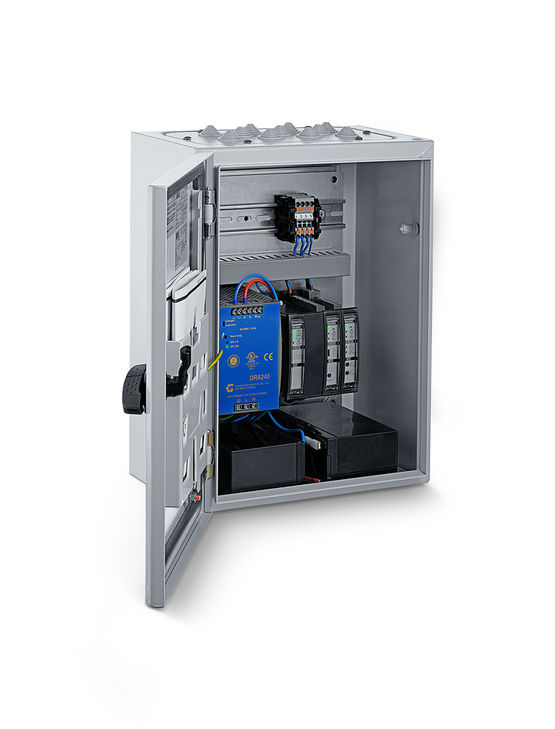 The compact MBZ 300 N8 SHEV control panel © GEZE GmbH
In the event of a fire, SHEV control panels safely and reliably control window drives for natural smoke and heat exhaust ventilation. In daily life, they provide fresh air through controlled natural ventilation. A new and flexible solution for smaller control panels is the MBZ 300 N8 SHEV control panel.
Connection for smaller SHEV solutions
As big as necessary, as small as possible. With the flexible possibilities of our development we have created another variant of the MBZ 300. In small and medium-sized buildings as well as in stairwells, the SHEV central MBZ 300 N8 is exactly the right choice.
24 V SHEV control panel with compact housing
Small housing dimensions 300 x 400 x 200 mm
8 A output current for one fire section and one or two ventilation groups
Extendable thanks to modular design
Flexible adaptation to building-specific requirements
Fast and convenient: Installation and commissioning
Simple installation thanks to a drive module and pre-wired terminal blocks
Standard applications: Simple commissioning without any further parameter settings
Project-specific adjustments and complex smoke and heat extraction system functions with PC configuration software
Optimum line-feed in the building
Bus networking of multiple MBZ 300 N8 SHEV control panels allows the remote composition of smoke and heat extraction systems. This results in significant reduction in cable lengths between the control units and the window drives and therefore in the cable cross-sections